Nog nooit eerder kreeg een in het wild levende tijger zoveel eerbetoon…
De legendarische tijgerin met de genaamd Collarwali is niet meer…. Zij leefde meer dan 16 jaar Pench National Park in India en is afgelopen januari van ouderdom gestorven. In het filmpje hieronder ziet u hoe ze werd opgebaard en volgens Hindoestaans gebruik eervol werd gecremeerd. Het is uiteraard al bijzonder dat ze door de park rangers werd gevonden na haar dood, maar nog bijzonderder is het afscheid dat voor haar werd georganiseerd. Niet in de laatste plaats om de economische boost die deze tijgerin gaf aan de lokale bevolking rond het park.  Pench was in het verleden een verwaarloosd park, mede door de aanwezigheid van Collarwali  en haar nakomelingen groeide het park uit tot een bekend en gewaardeerd National Park, waar tijgers vaak worden gezien op een safari. Zo werkt Nature Conservation through Tourism en dit is dan ook de enige reden waarom All for Nature Travel 12 jaar geleden is opgericht.
Julian Matthews voormalig voorzitter en Honorary President van TOFTigers legt dit nog eens uit in bijgevoegde mooie blog. TOFTigers is dé NGO die zich al meer dan 15 jaar inzet voor het behoud van tijgers en hun habitat door middel van duurzaam toerisme. All for Nature Travel ondersteunt hen al sinds het begin.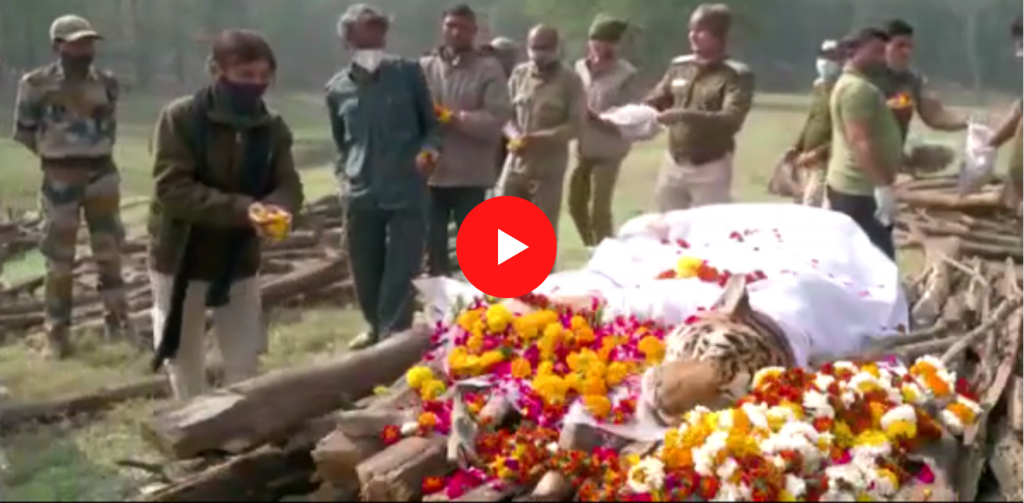 How a Tigress (and tourism) saved an Indian wilderness
I knew the tigress Collarwali or 'Mataram' 'Respected Mother' in Hindi, who died recently. She is a legend in the Pench Tiger Reserve that straddles the Madhya Pradesh and Maharashtra borders of India. This is not just because she was a great mother who lived in the core of the park where nature tourism was allowed and where she was comfortable around the many excited visitors and their vehicles in her wild territory.  This was not just because she was happy to show her extraordinary 8 litters of cubs, all 29 cubs, to all who found her, including her famous litter of five cubs she brought to adulthood. This was not just because so many of her cubs survived to adulthood that she repopulated a denuded and entire landscape with her offspring. This was not just because BBC films were made of her, countless articles written and scientists studied here every move.
It was more than that.
It was because over the last 16 years of her life, she has created a viable, expanding and intact wilderness in which she and her family could survive and prosper.  She literally saved her wilderness.
How did she do this, almost single handedly?  Simple.  Nature based economics.
Pench was a forgotten and neglected park in 2000. It had been an artillery practice range in the second world war after all and been stripped bare of commercial wood decades before.  At the turn of the millennium poaching and extraction were rife and respected researchers were surprised that such a large herbivore population failed to sustain tigers. Then one visionary naturalist and lodge entrepreneur, Hashim Tyabji, who loved the park set up a small lodge in early 2004 on its borders. Most people thought he was mad. Why here when better parks were nearby – Kanha Tiger Reserve – that you could see tigers in. 'Visitors – and tigers – will come' he said. He was right.
The small Turia village besides the park entrance began to see the benefits and the jobs created. The visitors began to came, the park slowly attracted more interest from media and politicians. There was money to be made after all. Soon visitors, more jobs, more lodges, and other bordering villages began to see the benefits of this new nature based economy. The park director's job became more important and his staff now saw the benefits of increasingly park fee revenues. Park staff were energised and encouraged as communities got supported. The local park guides from the bordering villages now stopped being the victims of conservation and became some of the beneficiaries, encouraging support for the park once again. Bollywood celebrities, politicians and even prime ministers started visiting to see what the fuss was about. Pench had gone from unknown, unloved and uncared for – to known, funded and cherished in a single decade.
For my small part, I found a 10.000 acre neglected patch of forest adjoining Pench in 2009, and asked to set up a community based conservancy here, to expand the park size by a third. Here was a perfect opportunity to expand the present park and protect critical and contiguous forest landscape to an adjoining park – the better known Kanha Tiger reserve. My proposal was agreed by the Madhya Pradesh government at the time, but rejected by the federal government sadly in 2010.  Today I am delighted this forest is now part and parcel of Pench Tiger Reserve and many of Collarwali's offspring have benefited from this patch of forest in the last decade.
In 2010, my charity TOFTigers had calculated that a single tigress in Rajasthan was worth $110million over her lifetime to the local economy.  Collarwali was probably worth the same to Madhya Pradesh.
Thank you and rest in peace Collarwali…..
By Julian Matthews, Honorary President, TOFTigers